Winemaking
A specialist in crafting cool-climate Pinot Noir and Chardonnay, Bo Felton is the gifted young winemaker who guides Migration's exploration of world-class, Burgundian-varietal winemaking. Combining experience gained on two continents, with a background making luxury Pinot Noir and Chardonnay from numerous acclaimed winegrowing appellations, Bo practices a vineyard-driven approach to winemaking that accentuates the character and complexity of the renowned winegrowing sites Migration partners with.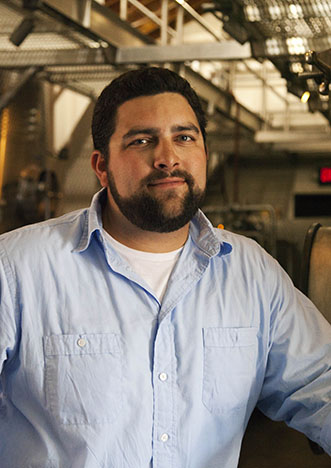 Bo Felton - Winemaker for Migration
Raised in Colorado, Bo was introduced to wine by his grandfather—an avid home winemaker. Each vintage, after his grandfather had driven a van full of grapes from California to Colorado, Bo and his family would de-stem the fruit by hand and ultimately help turn it into wine. These early experiences left Bo with a fascination for wine, and planted the seed for his future career.
Bo studied ecology, population and organism biology at the University of Colorado, Boulder. After completing his degree, he moved to California where he landed a coveted harvest position at Goldeneye, and met his mentor, then Goldeneye and Migration Winemaker Zach Rasmuson. "Zach taught me to be a steward of the vineyards and to respect the quality of the fruit in the winery." Eager to gain international experience, Bo went to New Zealand to work a harvest at Rapaura Vintners. Upon his return, he joined Goldeneye fulltime, and quickly made himself indispensible. "Bo is a true talent," says Zach. "He has vision, focus, a highly developed palate, and an innate understanding of winemaking. He also has a deep respect for his craft that is impressive for a young winemaker."
In 2010, Bo was named the assistant winemaker for Goldeneye. Because of his skill working with Burgundian varieties, and his ability to make wines with an authentic sense of place, Bo was also appointed the assistant winemaker to Neil Bernardi at Migration. Over the next several years, Bo worked side by side with Zach and Neil, becoming intimately familiar with the acclaimed vineyards from which Migration's Pinot Noirs and Chardonnays are sourced—a familiarity that allows Bo to make balanced, site-specific wines that show their cool-climate pedigree.
Bo left Anderson Valley in 2012 to focus more exclusively on Sonoma County as the assistant winemaker for Migration and Decoy. In 2014, in recognition of his skill and contributions, Bo was named the winemaker for Migration, becoming one of the youngest winemakers in the history of Duckhorn Wine Company. "My grandfather teared up when I told him I had been named winemaker. He understands what it means to be a part of the Duckhorn Wine Company legacy—that I am carrying on a great tradition, and a standard of winemaking excellence that goes back four decades."