Winemaking
As a specialist in crafting cool-climate Pinot Noir and Chardonnay, Neil Bernardi guides Migration's exploration of world-class Burgundian-varietal winemaking. Combining experience working with Pinot Noir and Chardonnay from numerous acclaimed growing regions, with a skilled and thoughtful approach to winemaking refined on two continents, Neil has established himself as an emerging star working with Burgundian varietals.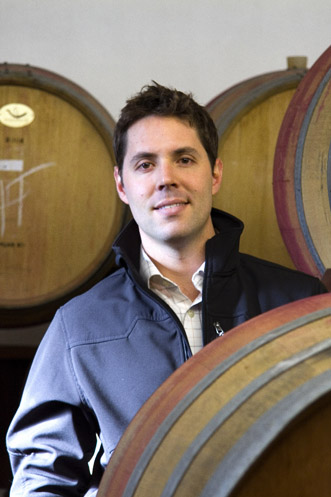 Neil was born and raised in Northern California, and grew up in a family that embraced the vibrant relationship between wine and food. After graduating from high school, Neil lived briefly in Florence, Italy, where he immersed himself in the culture and savored the pleasures of regional wines. Returning to the U.S. in 1999, Neil began studying Italian at the University of California, Davis. A chance encounter with Jim Wolpert, Davis's viticulture and enology department chair at the time, inspired Neil to expand his studies. "Jim helped me realize how rich and diverse the craft of winemaking is, and how it incorporates so much artistry and so many disciplines, from chemistry and microbiology to languages, history and economics. Winemaking soon became my life." During his time at Davis, Neil spent three years working in the lab of renowned sensory scientist Dr. Ann Noble, expanding his palate and happily serving as a guinea pig for her numerous Chardonnay and Pinot Noir studies. He also gained valuable experience working for Sonoma's Gundlach Bundschu.
After earning his B.A. in Italian and B.S. in viticulture and enology, Neil went to New Zealand to deepen his understanding of winemaking styles, and the affects of geography and climate on grape growing. There, he worked as part of the winemaking team for three illustrious wineries: Saint Clair Estate, Cape Campbell Wines and Kim Crawford. Returning from New Zealand, Neil worked as the assistant cellarmaster for Quintessa before joining the team at Goldeneye as enologist alongside winemaker Zach Rasmuson. Quickly making himself indispensable, Neil was promoted to assistant winemaker for Goldeneye and Migration within the year. "I learned so much from Zach," says Neil, "his passion for the vineyards, his respect for the character and integrity of the fruit, and his intimate approach to winemaking." While at Goldeneye, Neil also served as vice president on the executive board of directors for the Anderson Valley Winegrowers Association.
In early 2007, Neil left Goldeneye with Zach's blessing to join noted winemaker Ted Lemon's team as the assistant winemaker for Littorai, where he was promoted to associate winemaker within a year. "Working with Pinot Noir and Chardonnay is a constant process of learning and evolution," says Neil. "I have had the great fortune to learn my craft from some of the very best in the business." While at Littorai, Neil managed day-to-day operations, and gained extensive experience working with Burgundian varietals from such noted cool-climate appellations as the Russian River Valley, Sonoma Coast and Anderson Valley. In 2009, Neil rejoined the Duckhorn Wine Company team as the winemaker for Migration. "Building on what has already been established at Migration is something I am very excited about," says Neil. "The opportunity to take a clearly defined style—a balanced style that is both vibrant and sophisticated—and to explore how that style can be expressed in different appellations is a fascinating prospect for a winemaker."