September 7, 2013 | Harvest 2013 | Neil Bernardi
Harvest Bio – Andrew "Bo" Felton, Decoy/Migration Assistant Winemaker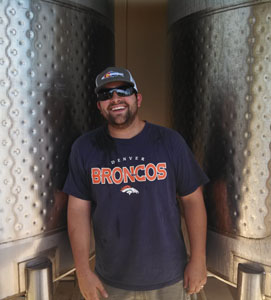 Over the course of the harvest season, after countless hours of loading presses, lugging hoses, visiting vineyards, and tasting juice samples til your tongue is numb, you form a certain bond with those around you. Like other stressful and challenging environments, the cellar forges strong bonds of shared experience, tested by common struggle in the pursuit of a singular vision. Bo and I share a common lineage in that we were both, in our own separate times, assistant winemaker at Goldeneye Winery working for the great Zach Rasmuson. Our paths crossed in 2009, when I came back on board to manage Migration. I came back to a cellar (Migration was making wine at the Goldeneye facility) that was the same, yet different, and shaped by Bo's jovial, fun-loving yet hard working spirit. I soon came to realize that he was also a cellar beast - conquering winemaking tasks with an unmatched vigor, with greater speed and attention to detail than any of his peers (save perhaps Pancho, another Titan of the Cellar who I will highlight in an upcoming post). It is an understatement to say that since then he has been a critical part of the development of Migration, helping guide the style and personality of the wines to where they are today. More recently, he has found success taking on additional responsibilities assisting Don LaBorde craft the compelling Decoy lineup.
Beyond wine, Bo is a fly-fisherman, a lover of Kershaw knives, a spokesman for the great state of Colorado, and a mile-high supporter of the Broncos. It will be a terrible shame when they lose to the Niners in the Superbowl.
Comments
Don LaBorde

@ Sep 9, 2013 at 8:55 PM

Is it possible for the Broncos and Niners to meet in the Superbowl?

Commenting has been turned off.