Featured Press
South Florida Reporter
Migration Single-Vineyard Chardonnays
A Taste For Single-Vineyard Wines: Dana Epperson says people... Read More »
Wine Spectator - 90 points
2017 Migration Sonoma Coast Pinot Noir
Well-structured, showing vibrant dried cherry, red plum and currant... Read More»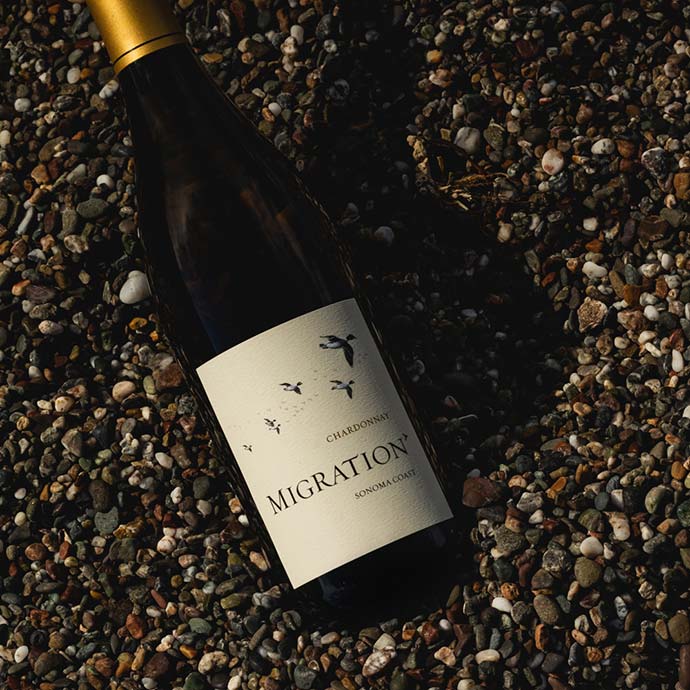 Ken's Wine Guide - 90 Points
2018 Migration Sonoma Coast Chardonnay
This pale straw-colored Chardonnay from Migration opens with a mild... Read More »
---
The Tasting Table website
June 2023


27 Best Places To Eat And Drink In Napa And Sonoma

For many, our dogs are our four-legged children, traveling with us wherever we go. Luckily, several Napa and Sonoma wineries accommodate and welcome well-behaved pups to join mom and dad for outdoor tastings. One of the best is Migration Winery in Napa.
---
Ken's Wine Guide - 90 Points
July 2020


2018 Migration Sonoma Coast Chardonnay

This pale straw-colored Chardonnay from Migration opens with a mild lemon verbena, pineapple and light oak bouquet. On the palate, this wine is light to medium bodied, balanced and delicate. The flavor profile is a gentle lemon and mild pineapple blend with notes of green apple. There were hints of oak in the background. The finish is dry and refreshing. This Chard is very versatile. It would be a perfect beach Chard for a hot summer day. With food, I would pair it with a toasted lobster roll. Enjoy.
---
South Florida Reporter
May 2020


A Taste For Single-Vineyard Wines

"Dana Epperson says people who visit Duckhorn Vineyards' California tasting room 'geek out' over her single-vineyard chardonnays made under the Migration label. Although consumers can opt for a much less expensive chardonnay that blends grapes from several vineyards, it's the chardonnay that comes from a specific vineyard that makes a visitor swoon.
---
Wine Spectator - 90 Points
September 2019


2017 Migration Sonoma Coast Pinot Noir

Well-structured, showing vibrant dried cherry, red plum and currant flavors that are backed by zesty acidity. The minerally finish is fresh and focused, with a savory edge.
---
Wine & Spirits - 95 Points - Year's Best U.S. Chardonnays
October 2018


2016 Sonoma Coast Chardonnay Charles Heintz Vineyard

Astonishing, rare; a wine that saturates the senses with flavors that feel unique and thrilling; a rare landmark for its region.
---
The Press Democrat
June 2018


Wine of the week: Migration, 2016 Sonoma Coast Pinot Noir

Dana Epperson loves to describe what makes pinot groomed in chilly weather a standout, and she's unapologetic about her cool climate bias. Epperson is the winemaker behind our wine-of-the-week winner — the Migration, 2016 Sonoma Coast Pinot Noir at $40.
---
Wine Enthusiast - 92 Points
September 2017


2015 Santa Maria Valley Chardonnay Bien Nacido Vineyard

Intriguing aromas of saltwater taffy, churned butter, lemon drop and cotton candy show on the dairy-powered nose of this bottling of the historic vineyard by the Duckhorn-related producer. Lemon cream and whitepeach flavors show on the sip, where a strong salty character cuts through.
---
Wine Review Online - 92 Points
July 11, 2017
2015 Russian River Valley Chardonnay
Migration is a line of wines produced under the auspices of the Duckhorn Wine Company, which is at the very top of its game these days, turning out terrific wines from all of its brands. There are several Migration Chardonnays, including a Charles Heintz Vineyard release from Sonoma Coast ($55) and a Dierberg Vineyard release from the Santa Maria Valley (also $55). These are both quite good wines...ripe and rich with plenty of fancy oak accents. But however implausible this may seem, I much preferred this more modest Russian River Valley bottling, which rings up for $32 and is also much more widely available. It is the simplest of the three, but also the freshest, with wonderful purity to the fruit, which recalls moderately ripe peaches and baked apples, along with citrus edging. Medium-plus body makes for a satisfying wine, yet it is every bit as refreshing as it is substantial. I've always been leery of the 'less is more' cliché, but I'll need to rethink that after tasting this beauty.
---
Forbes
June 6, 2017


10 American Chardonnays That Pair Well With Food

Sonoma Coast is a trendy AVA these days thanks to its proximity to, yes, the coast, and hence all that cooling Pacific air. The result: leaner, more angular, less over-ripe wines. Here there's plenty of mouth-filling richness, but it's balanced by a bracing apricot and pineapple.
---
Wine Enthusiast - 92 Points
June 2017


2014 Russian River Pinot Noir Running Creek Vineyard

Made as a barrel and block selection from the producer's own estate vineyard along River Road, this is an inaugural release. It impresses in spicy rose, black tea and geranium, supple in tannin and structure with a robust, full-bodied lushness on the palate that lingers.
---
Wine Advocate - 93+ Points
April 28, 2017


2015 Sonoma Coast Chardonnay Charles Heintz Vineyard

The 2015 Chardonnay Charles Heintz Vineyard is a little youthfully closed, offering glimpses at warm grapefruit, white peach and brioche notes with touches of coriander seed, honeysuckle and marzipan. Medium-bodied with great elegance and finesse, it delivers intense citrus and stone fruit flavors with beautiful freshness, finishing long and minerally.
---
Wine Enthusiast - 91 Points
March 2017


2014 Russian River Valley Pinot Noir

This wine has lovely, inviting aromas of baking spice and earth. Full-bodied flavors of blueberry and raspberry are supported by spicy oak. Its boldness and density is met by fresh cranberry, while a tease of vanilla complements the other characteristics.
---
The Detroit News
May 2, 2016


Your Monday wine: Migration's 2013 Dutton Ranch Pinot Noir

MIGRATION is part of the Duckhorn family of wines that focuses solely on Pinot Noir and Chardonnay sourced from the Russian River Valley in Sonoma, Anderson Valley in Mendocino County and the Santa Maria Valley in the Central Coast region. The grapes come from top growers; the wines are made in a lush, full-bodied, seamless style. The inaugural vintage was 2001. The wines below are new releases from the 2013 vintage, a growing season that excited California vintners. Says Migration's winemaker Bo Felton: " It's one of those seasons where the vineyards were the driving force in the character and quality of the wines — never the weather."