October 8, 2013 | Harvest 2013 | Neil Bernardi
The Other Harvest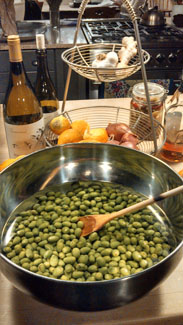 Like most of my co-workers I love food. Anything fermented, cured, salted, or smoked holds a special place in my heart. I was introduced to the various forms of olive curing last year by Don LaBorde and Marc Myers, two accomplished food processors, and really enjoyed the results. The photo above is my second attempt, with olives from my parent's trees. There are a couple different ways to attenuate the extremely bitter compounds found in most olives, the fastest of which is the use of 100% lye (sodium hydroxide), followed by repeated rinsing and brining. Don also introduced me to this blog 'Hunter Angler Gardener Cook' which had some great suggestions. (http://honest-food.net/)
Note the Buffalo Trace in the background. Don and Marc told me this is also a key element to the olive sorting and curing process.
Comments
Abigail
@ Oct 9, 2013 at 10:38 AM
You *are* planning on sharing those around the office, right? :)
Don

@ Oct 10, 2013 at 6:22 PM

You make me so proud!

Commenting has been turned off.