Smoked Salmon-Truffled Pizza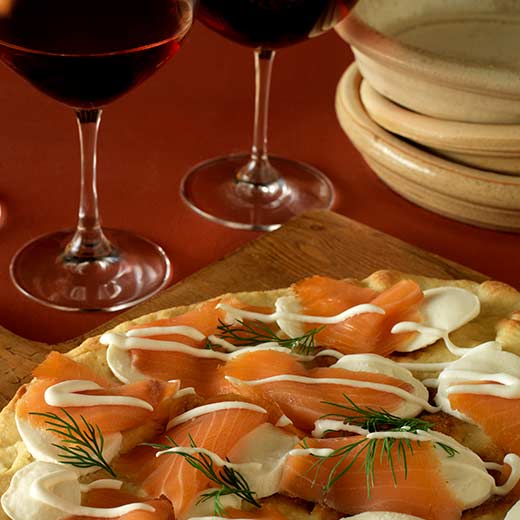 Yield: Four 8" pizzas
Prep: 1 hour and 10 minutes | Cook: 20 minutes
Total Time: 1 hour and 30 minutes
Ingredients
4 Tbsps extra virgin olive oil
6 oz smoked salmon, sliced thin
4 oz perlagrigia truffled cheese (optional)
2 Tbsps fresh dill, chopped
Pizza Dough:
1 cup warm water
1/4 tsp sugar
2 tsps active dry yeast
2 3/4 - 3 1/2 cups All Purpose flour
1 1/2 tsps kosher salt
1 1/2 Tbsps extra virgin olive oil
Preparation
Pizza:
1. Preheat oven to 450 degrees (or to oven's highest temperature) If using a pizza stone heat in oven as well.
2. Arrange scallion greens in one layer on plank to form a bed for the fish.
3. Put rolled out dough on either a pizza paddle (if using a stone) or baking sheet. Brush pizza dough with olive oil. Divide and arrange smoked salmon, cheese and dill equally, leaving a one-inch border.
4. Put pizza in oven and bake approximately 15-18 minutes until cheese has melted and pizza dough is crisp and golden. Remove from oven and portion as you wish.
Options- Mozzarella or goat cheese can also be used, as well as a generous drizzle of truffle oil.
Pizza Dough:
1. Dissolve sugar in warm water. Sprinkle yeast over top, stir with fork to dissolve. Let stand until creamy and foamy, about 5 minutes.
2. In the bowl of a food processor, pulse to combine flour and salt. Add yeast and olive oil. Pulse until dough comes together, adding more flour as needed. Transfer to clean surface. Knead and shape into a ball.
3. Brush inside of medium bowl with olive oil, place dough in bowl, smooth side up. Cover tightly with plastic wrap and place in a warm place until doubled in size, about 40 minutes. Remove plastic wrap, punch down dough. Fold back on itself 4-5 times. Cover with plastic wrap and allow to rise again until doubled in size, about 30 minutes.
4. Punch down dough again. Transfer to a clean surface. Divide dough into four equal pieces. Knead and roll out as needed.
Pairing Recommendations - PN