Creamy Lemon Garlic Mussels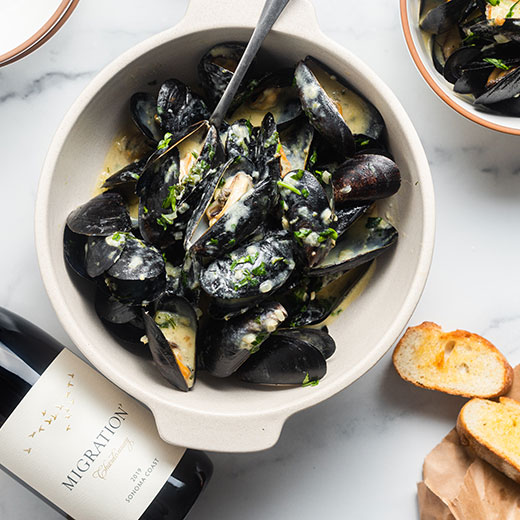 Yield: 4 servings
Prep: 5 minutes | Cook: 20 minutes
Total Time: 25 minutes
Creator: Home Cooking Collective
Who doesn't love steaming a warm pot of mussels during the winter. This version features a comforting and creamy lemon garlic sauce; the broth is flavorful and complex, despite the dish coming together quite quickly. The citrus-scented mussels pair wonderfully with Migration's Sonoma Coast bright, acidic, and fruity Chardonnay.
Ingredients
1 lemon
3 tbsp butter
5 cloves garlic, minced
2 shallots, finely chopped
Salt and black pepper
1 tbsp flour
½ cup fish stock or clam juice
1 tsp dijon mustard
1 cup heavy cream
2 lbs mussels, cleaned (rinsed and debearded)
A handful of parsley, finely minced
1 baguette, sliced and toasted with butter, for serving
Preparation
Notes before getting started:
• To prevent any mussels from overcooking, I typically remove already opened mussels about halfway through the cooking process, then continue simmering the remaining mussels.
• Do not substitute heavy cream for a lighter dairy product, as it will curdle. Even still, lemon juice can sometimes curdle heavy cream, so I've added in a step to create somewhat of a roux with the flour to prevent this from happening. Additionally, make sure to add the lemon juice only after removing the cream sauce from the heat.
Zest the lemon. Juice half the lemon, then cut the other half into wedges for serving; set aside.
In a medium dutch oven or heavy pot set to medium heat, add butter. Once melted, add garlic, lemon zest, and shallots. Let cook on medium-low heat until garlic and shallots are soft and translucent, about 8 to 10 minutes. Season with a pinch of salt and black pepper.
Whisk in flour into the pan until no clumps remain, and continue whisking for about 1 to 2 minutes until mixture thickens into a golden paste and there is no raw flour smell.
Add in fish stock (or clam juice) and mustard, and bring mixture to a boil, whisking frequently to ensure the paste fully melts into the liquid (scrape up any bits at the bottom if needed).
Reduce heat to a simmer on medium heat, then stir in heavy cream. Season again with salt and pepper.
Add the cleaned mussels and half of the parsley to the pot, stirring to combine. Cover pot with a lid, and let mussels simmer and steam until fully opened, about 5 to 10 minutes. Once opened, transfer the mussels to a serving bowl with a slotted spoon.
Remove the pot from the heat, then stir in a squeeze of lemon juice, to taste. Pour the lemon cream sauce over the mussels. Garnish with the remaining parsley. Serve immediately, with a side of lemon wedges and the baguette.
Take a look at our recommended pairing below.
Pairing Recommendations - CH