Wild Mushroom Pate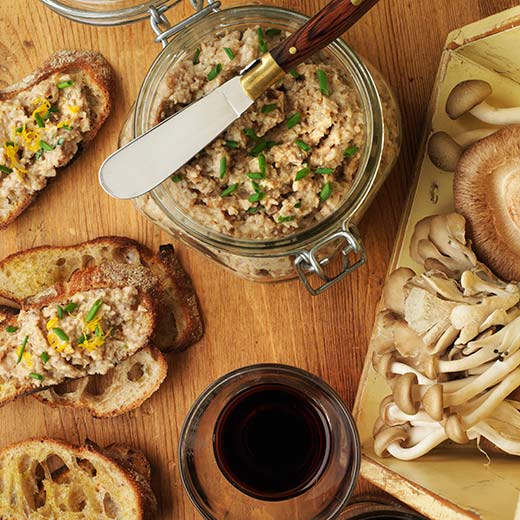 Yield: 8-12 servings
Prep: 15 minutes | Cook: 35 minutes
Total Time: 50 minutes
Ingredients
1 ½ lbs chopped, mixed wild mushrooms - tough stems removed
½ cup toasted/chopped walnuts
1 large shallot chopped
2 Garlic cloves chopped
2 tsps thyme and chives chopped
6 oz dried mushrooms soaked in hot water - reserve ¼ cup liquid
2-3 tsps zest of one lemon
10-12 oz fresh Ricotta cheese
1 Tbsp Marsala
¼ cup olive oil
3 Tbsps Butter
Chives or mixed herbs for garnish
Preparation
Heat saute pan over medium heat and add olive oil and butter, then add shallots and garlic with pinch of salt and saute for 5-7 minutes until soft.
Increase heat to medium-high and add mushrooms and thyme stirring constantly to insure your mixture is incorporated for another 5-7 minutes until mushrooms have released juices. Add 1 Tbsp Marsala and ¼ cup mushroom liquid and cook until nearly gone. Put mushrooms on sheet pan and spread to cool for 15 minutes.
In cuisinart put cooled mushrooms, lemon zest, chives, walnuts and fresh ricotta. Pulse until desired smoothness. Slightly chunky is nice for texture.
Put in desired serving bowl, cover and refrigerate for at least 3-4 hours, best overnight.
Serve
Garnish with chives and serve with crackers or crostini.
Take a look at our recommended pairing below.
Pairing Recommendations - PN