Cedar Planked Salmon with Dill Butter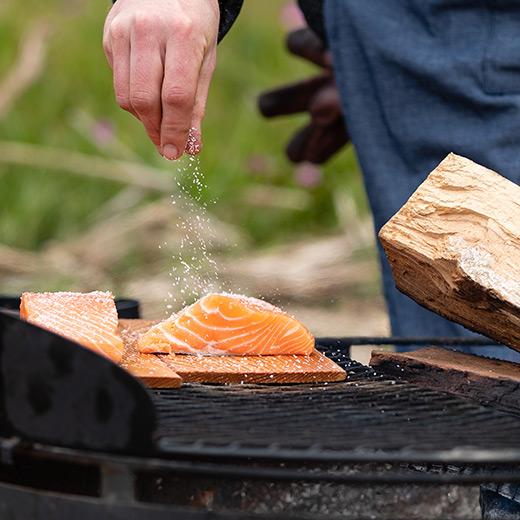 Yield: 8 as appetizer | 4 as family style course
Prep: 2 hours | Cook: 40 minutes
Total Time: 2 hours and 40 minutes
Fresh salmon topped with a dill butter makes for a recipe that is easy and delicious. Cooked on cedar planks on the grill you will be left wondering why you had never cooked salmon this way.
Ingredients
Salmon:
(1) 2 lbs salmon fillet with skin
Salt and pepper to taste
2 Cedar or other wood‐grilling plank (about 12x8 inches)
Juice of one lemon
Dill Butter:
1 cup plum jam
4 tsp Chinese five-spice powder
4 tbsp whole black peppercorns
4 tbsp pinot noir
1 tsp salt
1 stick of unsalted butter
3 tbsp dill, chopped
1 tbsp Dijon mustard
1 tbsp Lemon Juice
½ tsp lemon zest, minced
Salt and Pepper to taste
Preparation
Salmon:
Soak grilling plank in water for a minimum of 2 hours.
Lightly salt salmon fillet and allow for salt to soak into the protein for 15 minutes.
Heat half of the gas grill to a medium heat with the other half of grill set to low. Close lid of grill and allow grill to heat up.
Set fish skin side down onto the plank. Place plank on grill side set to low and close the grill. Cook for about 15 minutes with grill lid closed. Baste with Dill Butter (below) and continue to cook for 5 minutes. The protein should pull away from the skin when the fish is completely done.
Dill Butter:
For the butter, in a standing mixer fitted with a paddle attachment, whip the butter until light and fluffy. Add all of the ingredients and mix until fully incorporated. Season to taste.
Roll Butter into a log and Saran wrap. Place in refrigerator and slice into discs once cold for easier use. Butter may also be left out at room temperature for this recipe and dollop onto the salmon, as it will be melted.
To Serve
Let fish rest for 5 minutes then finish with Lemon juice. Serve Salmon on plank.
Take a look at our recommended pairing below.
Pairing Recommendations - PN