Pomegranate Glazed Lamb Meatballs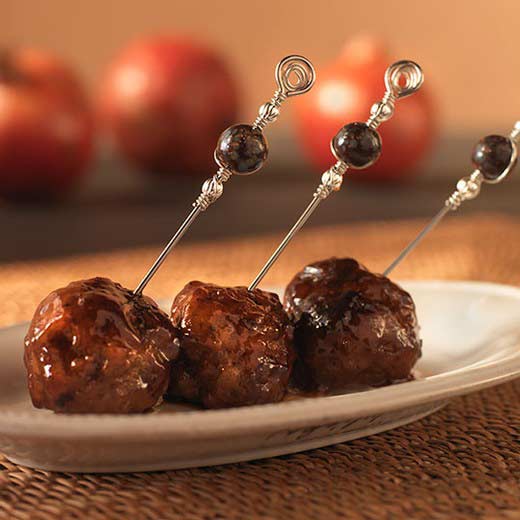 Yield: 6 servings
Prep: 25 minutes | Cook: 15 minutes
Total Time: 40 minutes
Ingredients
Pomegranate Glaze:
1 tsp grapeseed oil
3 Tbsps onion, minced
1/4 cup pomegranate molasses
1/2 cup ketchup
1/2 cup sugar
1 tsp fresh orange zest, finely grated
1/2 Tbsp fresh orange juice
1 tsp ground black pepper
Pinch of salt
Meatballs:
1/2 lb ground lamb
1/4 cup yellow onion, minced
1/2 cup bread crumbs, fresh
3 Tbsps Pecorino Romano cheese, grated
1/2 tsp fresh sage, chopped
1/2 tsp fresh thyme, leaves only
1/2 Egg, beaten
1/2 tsp salt
1/2 tsp freshly ground black pepper
Preparation
Pomegranate Glaze:
1. Place a nonreactive saucepan over medium heat and add the grapeseed oil.
2. When the oil is hot, add the onions and cook for 5 minutes until soft, being careful not to burn.
3. Add the rest of the ingredients for the glaze and mix well. Simmer over medium heat for 10 minutes. Reserve until service. The glaze can be made several days in advance.
Meatballs:
1. Combine the lamb in a mixing bowl with the onion, bread crumbs, cheese, herbs, salt and pepper.
2. Lightly rub your hands with olive oil and roll the lamb into 1/2" balls.
3. In a large nonreactive sauté pan over medium-high heat add the olive oil. When the oil is hot, sear the meatballs on all sides. They should take 4 to 5 minutes to cook.
4. Remove the meatballs from the pan to a plate lined with paper towels. Wipe the pan clean with a paper towel and return to the stove over medium heat.
5. Add the pomegranate glaze and bring it to a simmer. Add the meatballs and cook for 5 minutes stirring the meatballs to cover them equally with the glaze. Remove the pan from the heat.
To Serve:
Put two or three meatballs on each skewer. Place on a platter and serve.
Pairing Recommendations - PN