Rosemary Parmesan Cheese Straws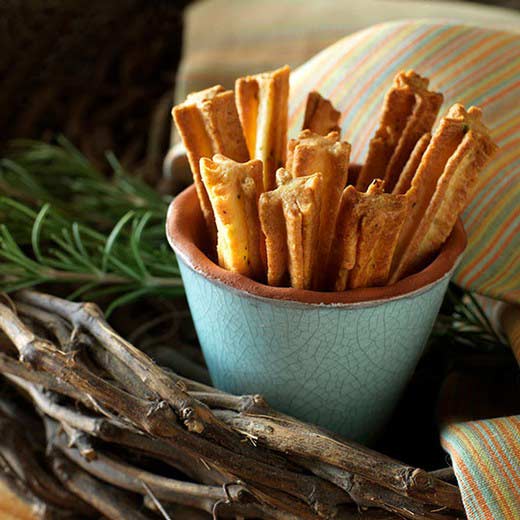 Yield: 2 dozen
Prep: 20 minutes | Cook: 35 minutes
Total Time: 55 minutes
Homemade rosemary parmesan cheese straws make the perfect snack. The best part is, you can make extra dough and freeze for when you need a quick addition to your next cheese plate.
Ingredients
1 ½ cups all purpose flour
2 tsp kosher salt
1 tsp black pepper, finely ground
1 tbsp fresh rosemary, finely chopped
4 oz unsalted butter, very cold and cut into small cubes
2 cups finely grated parmesan cheese
8 tbsp sour cream
2 tbsp milk
Preparation
Preheat oven to 325 degrees
Combine the flour, salt, pepper and the chopped rosemary in a food processor. Add the butter and pulse until the mixture resembles a course meal. Add the Parmesan cheese and pulse to mix. Add 1 tablespoon of the sour cream at a time, pulsing each time. Add the milk and pulse until the dough comes together. It's important not to run the food processor too much or the dough becomes tough.
Place the dough in a piping bag with a star tip. Pipe the dough into long strips on a sheet tray line with wax paper and place in the refrigerator to chill. After a couple hours remove the dough from the refrigerator and place on a cutting board. Cut 2 inch long portions and return to the sheet tray with wax paper. Refrigerate until it is time to bake.
Line a sheet pan with parchment paper and place the cheese straws on the sheet tray. Bake until the crackers are golden brown and firm in the center, approximately 25 to 35 minutes.
Serve
Place on a platter or in a basket and serve.
Take a look at our recommended pairing below.
Pairing Recommendations - CH