September 11, 2013 | Harvest 2013 | Neil Bernardi
Harvest Bio – Truckers
During harvest, these guys make the world go round. Whether delivering fruit, shipping wine from place to place, or hauling bins, truck drivers are like the bees of the wine world, leaving cheer or dismay in their wake as they flit from winery to winery. Below are a few things I have noted about this noble breed over the years:
As in any profession, to be a really good driver is a bit of an art form
Truckers usually have a solid nickname, such as Big Mike, Happy Mike, and M'Dave (these are actual nicknames of drivers we know)
Truck drivers have the capacity to make you sing with joy as your cherished Pinot Noir grapes, coddled since pruning, arrive on or before the determined 7 am time slot. They also have the capacity to drive you to tears of frustration as you sit helpless, waiting and wondering where the load of said cherished grapes is, and having it arriving 6 hours late, with only a half-hearted shrug as an excuse (this happened yesterday!)
Like the seven dwarves, truckers come in various shapes and forms – there are happy truckers, grumpy truckers, sleepy truckers, and once in a while a dopey trucker
These guys work really hard but are usually underappreciated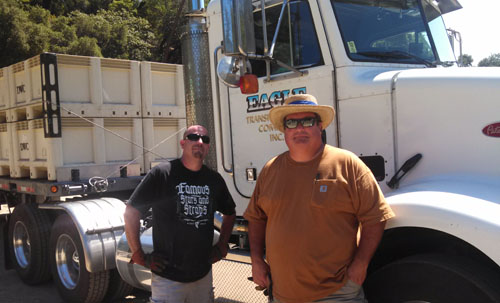 The gentlemen pictured above are two standouts of the profession, Kevin and Kurt, who work for Eagle Transportation. They are doing the hauling of all the fruit from our Ridgeline Vineyard to our winery, and are excellent at what they do.
Comments
Commenting has been turned off.