August 27, 2013 | Harvest 2013 | Neil Bernardi
Migration Wines
Friday was the first day of harvest. We picked 13.77 tons of Russian River Chardonnay from the Farrow vineyard in Windsor, and it tastes amazing! Aside from being extremely delicious, harvesting RRV Chardonnay on 8/23 sets a personal record for being the earliest harvest in my 15 vintage career. We have really had a rollercoaster over the last five years, with each vintage being significantly different. As an example, take a look at the degree day information below, which is the sum to date of hours that different parts of Sonoma County fell within key ripening maximums and minimums. Essentially the higher the number the more hours of ripening that area has experienced. Look at the variance across the past few years. To put these differences into real terms – we started the 2013 harvest one month earlier than the 2011 harvest!
This is also an interesting look when thinking about what varietals are growing where – Cab in the Alexander Valley (avg 1927 GDD's) and Pinot Noir and Chardonnay in Graton/Green Valley (avg 1374 GDD's).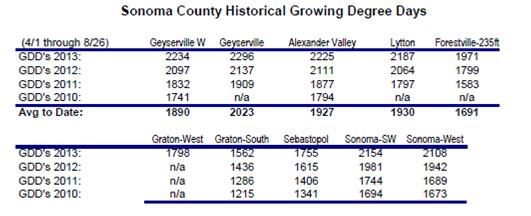 Comments
Margaret J. Jenney

@ Apr 29, 2015 at 2:44 AM

picking 13.77 tons is a huge figure. I congratulate you for this achievement. Myself is a brewer and if the taste is good then there is a possibility that wine taste also good. You have provided good information. Your website is very interesting and thanks for posting.

Commenting has been turned off.