September 6, 2013 | Neil Bernardi
One Cute Bottle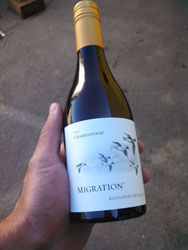 Check out this photo of the recently bottled 2012 Migration Russian River Chardonnay half bottle. Also, note the screwcap, which I am a huge fan of, especially for Chardonnay. Why? Interestingly, cork, like any other organic material is heterogenous in form, and as a result, different corks let more or less air into a bottle over time. While that may be desirable for some reds and whites, this small format Chard doesn't really need any air, and may actually suffer from too much. So in this case, the screwcap makes a ton of sense for wine quality. Corks still make sense for larger format bottlings as the liquid to oxygen transfer ratio is higher. Also, I have to admit that a certain amount of laziness is impacting my fondness for this bottle.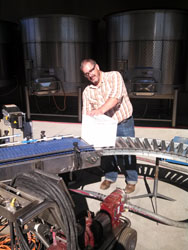 I would like to acknowledge one of the unsung heroes of Duckhorn Wine Company, Cian Woods, our Director of Operations, and his operations team, who are responsible for sourcing and organizing all the packaging that goes into making these bottles so beautiful, amongst many other things. Cian is pictured here meticulously placing case labels in the blazing hot sun. Note the cool safety glasses (operations is also in charge of safety!).
Comments
Commenting has been turned off.