Caesar Salad with Shrimp and Sourdough Croutons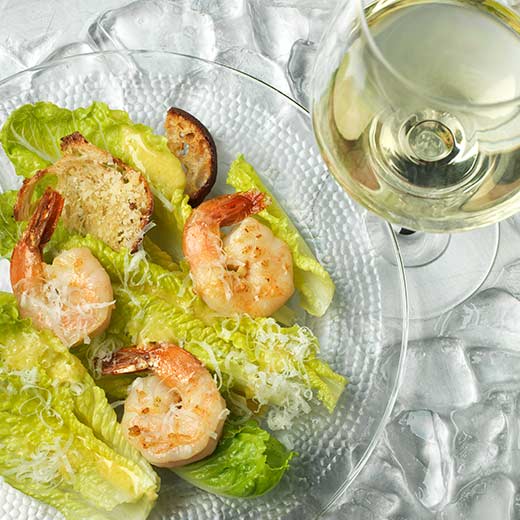 Yield: 6 servings
Prep: 20 minutes | Cook: 10 minutes
Total Time: 30 minutes
This is the ideal caesar salad recipe for a hot summer day! Just add shrimp and sourdough croutons and you have a restaurant worthy creation.
Ingredients
Dressing:
3 large pasteurized egg yolks
1 garlic clove, peeled
½ cup grated Parmesan cheese
5 tbsp lemon juice
2 each anchovy fillet
1 tsp salt
¼ tsp dry mustard
Ground black pepper, to taste
2/3 cup olive oil, canola or grapeseed oil
Sourdough Croutons:
3 cups Sourdough Bread, small cubed
3 tbsp canola oil
¼ cup grated Parmesan cheese
1 tsp Salt
Shrimp:
20 each tail on shrimp, peeled and deveined
3 tbsp canola oil
2 garlic cloves, minced
1 Meyer lemon, Juice
1 bushel parsley, chopped
Salt, to taste
Salad:
2 large heads of Romaine Lettuce, ribs removed and chopped
Croutons
Shrimp
Additional grated Parmesan
Preparation
Dressing:
Add all ingredients except for oil into a blender. Slowly stream in oil and blend slowly until dressing thickens. Refrigerate for 3 to 5 days.
Sourdough Croutons:
In a large sauté pan heat oil over medium heat and add the bread. Toss evenly and allow bread to absorb oil. Toast lightly for 4-6 minutes. Transfer the toasted bread to a bowl and toss with cheese. Season to taste.
Shrimp:
Add the oil and garlic cloves to a sauté pan over very low heat. Allow garlic to infuse in oil for 3 to 5 minutes, prevent it from burning. Increase heat to medium. Add the shrimp to the pan and cook on one side for about a minute. Flip shrimp over and cook for additional minute. Remove pan from heat and carefully add parsley and lemon juice to hot pan. Cover with lid and place back on heat for additional minute. Turn off flame allow to cool and remove shrimp.
Salad:
Mix lettuce and croutons and dressing. Plate the dressed greens with croutons into a serving bowl. Add shrimp and garnish with shaved Parmesan.
Take a look at our recommended pairing below.
Pairing Recommendations - CH