Herb Roasted Rack of Lamb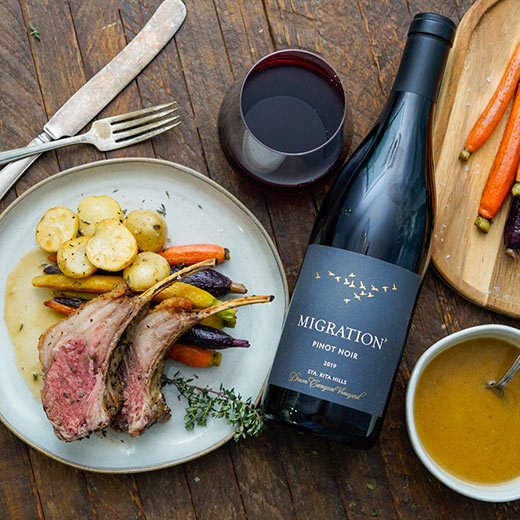 Yield: 4 servings
Prep: 5 minutes | Cook: 30 minutes
Total Time: 35 minutes
Creator: Couple In The Kitchen
Ingredients
1 rack of lamb, at room temperature
3 tbsp grape seed oil
1 tbsp rosemary leaves, de-stemmed and finely chopped (about 3 sprigs)
1 tbsp thyme leaves, de-stemmed and finely chopped (about 6 sprigs)
¼ cup beef stock
2 tbsp butter
Salt and pepper
Preparation
Preheat the oven to 450 F. Pat the lamb dry with paper towel and season well with salt and pepper.
Coat the lamb with 2 tbsp of a high smoke point oil, such as grape seed oil, and cover with the minced herbs.
Heat another tbsp of oil in a frying pan over medium high heat, then add the lamb, fat-side down. Leave the meat to cook for 2-3 minutes until seared. Sear the ends for a minute, then transfer to a grill rack set over a baking dish or tray (to catch the excess fat and juices).
Roast the lamb until the meat reaches 130 F internal temp for about 15 to 20 minutes (for medium rare), then transfer to a chopping board, wrap in foil and set aside to rest for 10 mins.
Meanwhile, pour the lamb renderings from the bottom of a roasting pan and add 2 tbsp butter and ¼ cup of beef stock. Whisk to heat over a medium heat. Simmer for 3-5 minutes to reduce, or until the sauce can coat a spoon.
Season to taste with salt and pepper. Keep the sauce warm over a very low heat if necessary.
Carve the lamb into chops and serve with the sauce.
Take a look at our recommended pairing below.
Pairing Recommendations - PN