Smoked Bacon Mac n' Cheese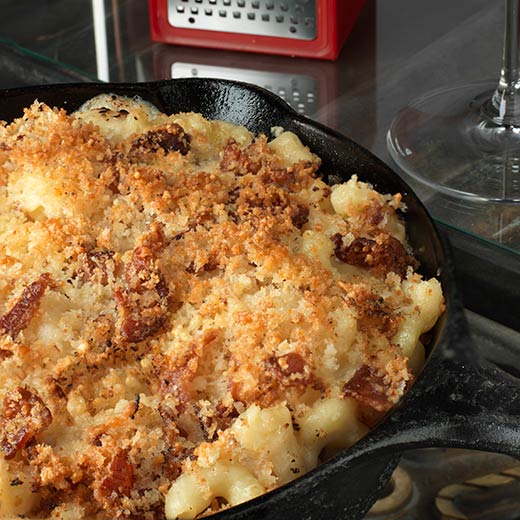 Yield: 6 servings
Prep: 20 minutes | Cook: 45 minutes
Total Time: 45 minutes
Cooked on an iron skillet, this warm and cheesy smoked bacon mac n'cheese is a game day favorite! The combination of cheeder cheese, gruyere, and parmesan with smoked bacon makes for a rich dish that pairs well with Pinot Noir.
Ingredients
1 lb Pasta such as Gemelli, Cavatappi or Fusilli
½ lb smoked Bacon
1 stick Butter, unsalted
½ cup All-purpose Flour
2 cups Whole Milk
1 tsp Black pepper
1 tsp Garlic powder
¼ tsp dry Mustard
1 tbsp salt
1 lb Cheddar cheese, grated
½ lb Gruyere, grated
¼ lb Parmesan, grated
1 Bag of Panko (Japanese bread crumbs)
Preparation
Preheat oven to 350 degrees.
Butter a 9x13 baking dish and place in refrigerator.
In a large pot with 8 quarts of salted water cook the pasta.
In a heavy bottom 4-quart stockpot render the sliced bacon slowly to cook out the fat for about 10 minutes.
Remove cooked bacon, cool and then chop bacon finely and place into a medium size bowl. Keep the bacon fat in the pot. Add the panko and grated Parmesan to the chopped bacon. Add remaining butter to stockpot with bacon fat. Bring to low heat. Using a wooden spoon, stir in flour to the fat and cook for 8-10 minutes on low heat.
Whisk in milk, black pepper, garlic powder, mustard and salt to the flour and fat mixture. Bring to a simmer while continuing to whisk over medium heat. Add the grated cheddar cheese to the milk gradually. Mixture should start to thicken. Stir until smooth.
Add the grated Gruyere to the cold pasta noodles and add the noodles and Gruyere cheese to the chilled baking dish. Pour the hot melted cheddar cheese over the pasta into the baking dish coating evenly. Top with bacon, Parmesan and breadcrumb mixture.
Bake for 20-25 minutes until golden brown and bubbling.
Take a look at our recommended pairing below.
Pairing Recommendations - PN