Notes from Neil
This collection of Migration Winemaker Neil Bernardi's 'Notes' is almost as close as you can get to experiencing the 2013 Sonoma County Wine Harvest! (You know, without actually participating yourself...) We hope you enjoy!

The rain has come and gone, thankfully followed by a strong wind and warmer temperatures. After inspecting quite a few vineyards with Jerry Chong, our illustrious Grower Relations manager, it appears that we dodged a bullet in most cases. The forecast is predicting good temperatures, no precipitation, and a potential heat up at the end of next week. In the winery, things are starting to reach the end of fermentation, and can be pressed and put to barrel, freeing up tank space for the next round of fruit.

Check out the forecast below indicating potential precipitation over the next few days. As you can imagine, this is not exactly a dream scenario, considering the amount of Chardonnay and other varietals we have in the field. On the positive side, it is only a day or two of potential rain, followed by cool days, and the potential for an 'Indian Summer' event in early October. The good news is we already have a lot of fruit (60% plus) in the barn, and quality is high.


This is my son Lucca, helping me test grapes at Bien Nacido in Santa Maria. He was munching the green berries and thought they were ready to go, apparently I have been letting things hang a bit too long.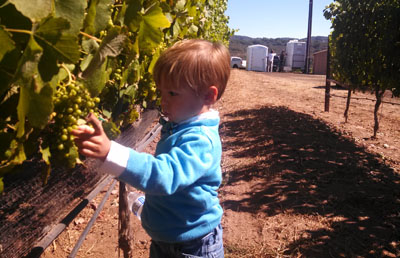 The press has got to be one of the coolest pieces of equipment in the winery.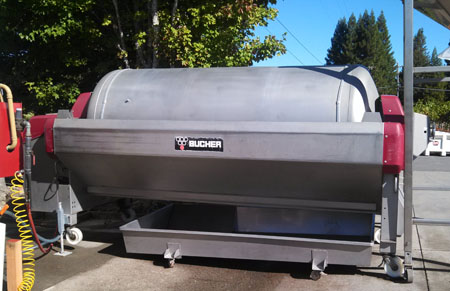 These things are workhorses, and are the focal points of many actions in the winery. While there are a few different types of press (basket, bladder, membrane, bucket) the idea is more or less the same: separate the liquid from the solid. In the case of whites and rose wines, that means squeezing the fresh fruit until most of the juice is collected in a tank. In the case of red fermentations, that means pressing the fermented skins until most of the wine is and collected.
The unit pictured above is a membrane press, and really it is pretty simple. First you fill the press with grapes. Next the brown PVC material on the right hand side inflates, pressing the grapes against the drain channels on the left hand side. Voila, juice should be pouring out at this point! The type of press, how you operate it, and how clean you keep it can all make a big difference in the resultant wine or juice, so we usually spend a lot of time dialing them in.

If you have ever visited one of our wineries, you probably noticed a sorting line, much like the one pictured below. What are we sorting out that makes such a difference in the finished wine? For starters, we want to make sure that there is no MOG getting into the fermentation tank. MOG, or material other than grape, can take a lot of shapes – leaves, canes, rocks, lizards, all things that don't make wine delicious. Perhaps more importantly from a quantity standpoint, we are also looking for unripe grapes and rot that may have been missed in the field. From my perspective, removing these two items is key. Unripe grapes tend to have grippy, immature tannins and higher malic acid, a combination that detracts from overall quantity. As mentioned before, rotten clusters can contribute musty flavors as well as oxidative enzymes. Removing as many of these clusters as possible makes the difference between a good and a great wine.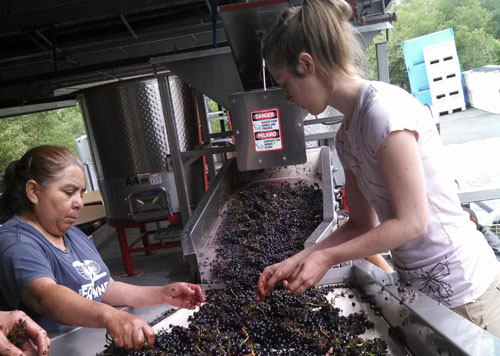 During harvest, these guys make the world go round. Whether delivering fruit, shipping wine from place to place, or hauling bins, truck drivers are like the bees of the wine world, leaving cheer or dismay in their wake as they flit from winery to winery. Below are a few things I have noted about this noble breed over the years:
As in any profession, to be a really good driver is a bit of an art form
Truckers usually have a solid nickname, such as Big Mike, Happy Mike, and M'Dave (these are actual nicknames of drivers we know)
Truck drivers have the capacity to make you sing with joy as your cherished Pinot Noir grapes, coddled since pruning, arrive on or before the determined 7 am time slot. They also have the capacity to drive you to tears of frustration as you sit helpless, waiting and wondering where the load of said cherished grapes is, and having it arriving 6 hours late, with only a half-hearted shrug as an excuse (this happened yesterday!)
Like the seven dwarves, truckers come in various shapes and forms – there are happy truckers, grumpy truckers, sleepy truckers, and once in a while a dopey trucker
These guys work really hard but are usually underappreciated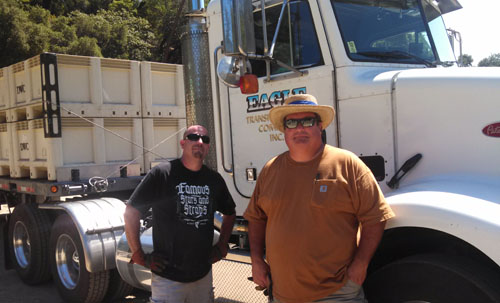 The gentlemen pictured above are two standouts of the profession, Kevin and Kurt, who work for Eagle Transportation. They are doing the hauling of all the fruit from our Ridgeline Vineyard to our winery, and are excellent at what they do.

We started harvest at our Ridgeline Estate vineyard today in earnest, a full 15 days earlier than last year, with block 40, an extremely steep southerly facing gravel slope that would get a begrudging nod of approval from the Cote Rotie. This is typically our first pick off the ranch and, due likely to the extremely low yields, makes wines of incredible intensity and depth. The Ridgeline vineyard is the cornerstone of the Decoy Cab, Merlot, and Red wine bottlings. Winemaker Don LaBorde has a veritable treasure trove of individual soil, rootstock, and site combinations to work with, adding nuance to his already formidable stable of vineyards. This ranch usually ripens over the course of ten days to two weeks, giving us a chance to harvest a small amount per day, as we are limited by the steep slopes and small staging areas. This aerial shot gives a good sense of the terrain.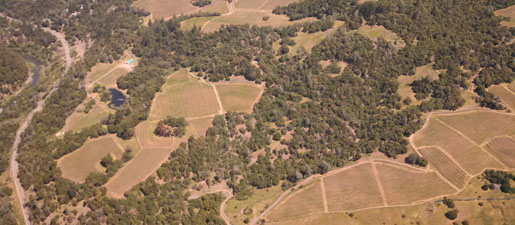 I wonder if science has tried to explain the restorative properties of opening an ice cold beer after a long day's work? Certainly, from a physical standpoint, hydration and temperature are key elements, but I would posit that the process itself is an equally important element to the satisfaction one feels. The fact that you are drinking a beer is a tacit acknowledgement that the day's work is over (well, most of the time), the toils of the moment behind you. You sit back and tell stories about the days deeds and misadventures with your comrades, wondering if life can get any sweeter. Beyond the pure enjoyment of sudsy, delicious beer, it can be an incredible motivator, a lifter of spirits, like some great, tin, blue-mountained carrot on a stick, that can resuscitate even the most haggard and despondent of crews. Hence the old adage, "It takes a lot of beer to make good wine."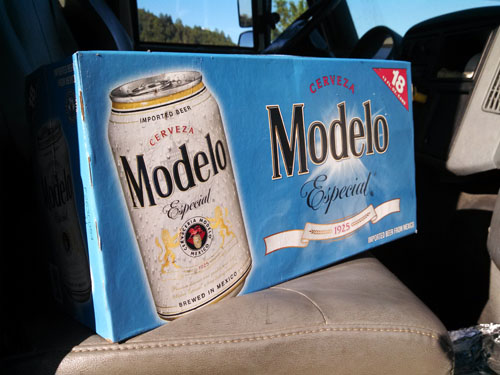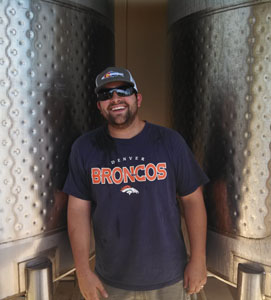 Over the course of the harvest season, after countless hours of loading presses, lugging hoses, visiting vineyards, and tasting juice samples til your tongue is numb, you form a certain bond with those around you. Like other stressful and challenging environments, the cellar forges strong bonds of shared experience, tested by common struggle in the pursuit of a singular vision. Bo and I share a common lineage in that we were both, in our own separate times, assistant winemaker at Goldeneye Winery working for the great Zach Rasmuson. Our paths crossed in 2009, when I came back on board to manage Migration. I came back to a cellar (Migration was making wine at the Goldeneye facility) that was the same, yet different, and shaped by Bo's jovial, fun-loving yet hard working spirit. I soon came to realize that he was also a cellar beast - conquering winemaking tasks with an unmatched vigor, with greater speed and attention to detail than any of his peers (save perhaps Pancho, another Titan of the Cellar who I will highlight in an upcoming post). It is an understatement to say that since then he has been a critical part of the development of Migration, helping guide the style and personality of the wines to where they are today. More recently, he has found success taking on additional responsibilities assisting Don LaBorde craft the compelling Decoy lineup.
Beyond wine, Bo is a fly-fisherman, a lover of Kershaw knives, a spokesman for the great state of Colorado, and a mile-high supporter of the Broncos. It will be a terrible shame when they lose to the Niners in the Superbowl.

I was hanging out with Joe Dutton this afternoon, a farmer who has seen his fair share of growing seasons in Green Valley, and we were discussing the coming weather, noted above. Abnormally hot for an extended period of time, through most of next week, with a dry, northerly wind. You'd think that would be a good thing, but in truth a hot spell can be as destructive to wine quality as a rain event…well, almost. At the very least, it makes it challenging to get everything in the barn before it shrivels, and in so doing, acquires raisiny flavors and loses some of the acidity which makes wine so vital and delicious. That being said, we are really about to start cranking, and bringing fruit at a break neck pace into the winery. Joe put it best, the sugar winds are blowing.